Is a business simulation right for your learners?
Digital learning solutions address the challenge of knowledge gaps and inexperience by immersing learners in realistic, complex, safe, simulated environments.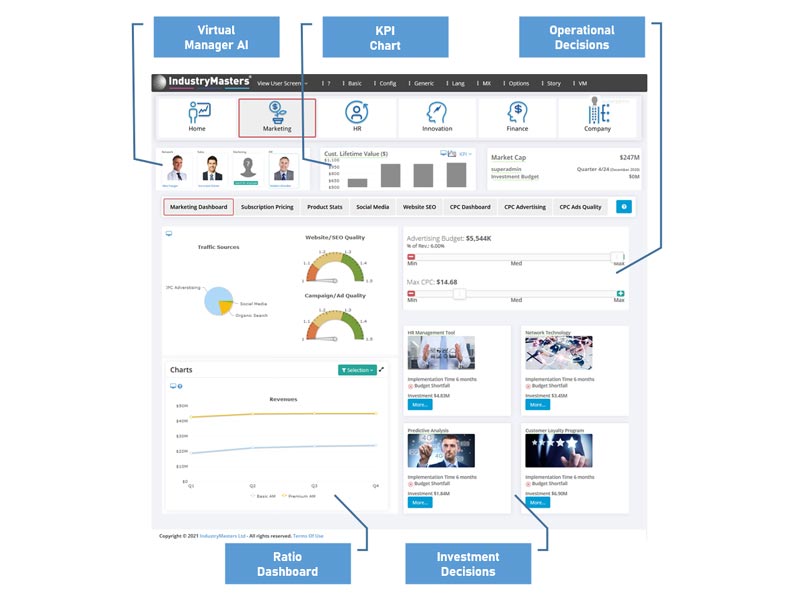 They also engage learners in the burning issues of business today: how to develop high performing teams, risk taking, encouraging innovation, strategic alignment, leveraging networks, and much more.
Our web-based, online learning experiences are designed to advance the thinking and decision-making effectiveness of your leaders.
A business simulation from IndustryMasters provides an opportunity to practice and refine business acumen skills. Then, participants witness the resulting consequences on the simulated organization's success or failure – without impacting your company's actual bottom line.
Digital learning solutions take many forms. What works for your organization's leaders, may not work for another's. So, we've created mobile learning and self-paced solutions, virtual competitions and classroom events, business wargaming, and solutions for use in executive education seminars. We offer a number of off-the-shelf simulations in a wide range of industries that do not require any development to deploy. Or, we can tailor an existing simulation or even build a fully custom solution.
Business Simulations that Meet Your Learners' Needs
Our learning solutions are flexible and scalable. This allows your learners to take their learning with them, advance at their own pace, and participate virtually or co-located with other learners.
We deliver exceptional learning experiences that meet a variety of client situations. We are ready to discuss your situation and challenges!
We develop your organization's leaders - those running your business today and those you are preparing to lead tomorrow.