Supply Chain Management Simulation
One lesson of the pandemic is the risk of just-in-time inventory management. Remember the run on household essentials like toilet paper and cleaning wipes? Supply Chain Management is critical to our daily life and to the success of business. IndustryMasters' off-the-shelf Supply Chain Management Simulation provides an engaging learning experience complete with true-to-life challenges and obstacles. This simulation is ready to deploy with minimal effort but can be tailored to include your specific KPIs, storyline, curveballs, and more. All IndustryMasters business simulations are available as competitive multi-player real-time events and as self-guided, single-player versions.
The Supply Chain Management Simulation can be modified quickly to adjust the storyline, KPIs, critical decisions and relevant lessons to your change management training requirements. When only a custom solution will do, we have the experience and technology to build completely unique supply chain management simulations. We work with you to ensure we have exactly the decisions and outcomes your learners need to understand.
What is Supply Chain Management?
Supply Chain management is the art to prepare and support employees within companies to make decisions that drive organizational change to achieve sustainable business results. The main drivers of change are the evolution of technology, customer demand changes, competitive pressure and regulatory requirements.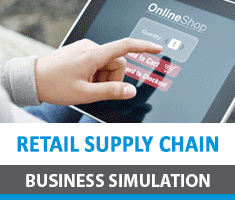 Manufacturers & Retailers
The primary objective of the Supply Chain Management Simulation is to manage the supply contracts between manufacturers and retailers of electronic consumer goods.
The Supply Chain Management Simulation is a fast-paced, engaging opportunity to learn about cash flow management, product life cycles, seasonal demand fluctuations, and marketing! Participants take over responsibility of a retail company and make decisions around a wide range of challenges..
Themes: Supply Chain Management, Competitive Strategy, Market Research, Procurement, Recruiting, HR Talent Retention, Inventory Management, Capacity Planning, Finance, Leadership, Team Building, Collaboration, Group Decision Making, Contract Negotiation.
KPIs: ROIC, Days of Inventory, Inventory, ROS, Revenue, Operating Profit, WACC, Store Revenues / sf , Store Profit / sf, Inventory Turnover, AP / Inventory, Gross Margin, AP, EBIT Margin, Management Motivation, FCF (Free Cash Flow).
Learning Objectives
Change Management across all departments: Procurement, Sales, Marketing, HR and Finance
Product Management

Adjusting consumer sales price on product & store level
Adjusting marketing spend on store level

Management of the Company's Funding
Launching of new stores with different sizes and locations
Procurement of products from OEM
Negotiation and management of procurement contracts between OEMs and Retailers
Managing inventory levels on product and store level
Managing internal supply from central warehouse to stores
Growing product sales and improving store profitability
Understanding the importance of talent management and retention
Maximizing market capitalization