Digital Marketing Management Simulation
The advance of digital technology in marketing has led to an increased need for developing digital marketing skills. Our Digital Marketing Simulation is consistent with corporate learners' growing interest in acquiring and developing such skills. Participants learn about organic (SEO) versus paid (CPC) internet traffic and how website visitors convert into leads and customers. Offering a hands-on, true to life approach, a simulation is an ideal format to learn new business concepts, including digital marketing.
Our off-the-shelf Digital Marketing Management Simulation provides an engaging learning experience and is ready to deploy with minimal effort. Above all IndustryMasters business simulations are available as competitive multi-player real-time events and as self-guided, single-player versions.
What Is Digital Marketing?
Digital marketing—or online marketing—is a term for all marketing activities done through online media. The goal of digital marketing is to gain web visibility, website traffic, leads, and then convert these into returning customers.
The Digital Marketing Management Simulation, one of several business management games offered by IndustryMasters, can be tailored quickly to adjust the storyline, KPIs, critical decisions and relevant lessons. When only a custom solution will do, we have the experience and technology to build completely unique marketing simulations. Given that, we work with you to ensure we have exactly the decisions and outcomes your learners need to understand.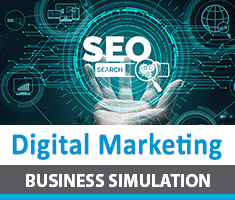 Digital Marketing 101
Participants learn how to market digital, SaaS- type products. Therefore, this simulation includes managing SEO activities, running social media campaigns, running CPC advertising, recruiting talent with a digital skillset and much more.
Themes: Strategy, Operations Management, Portfolio Management, Competitive Advantages, Recruiting, HR Talent Retention, HR Employer Branding, Customer retention, Customer acquisition, Finance, Issue/Buyback Shares.
KPIs: CPGA, ARPU, Costs per customer ($), Churn rate, Cust. Lifetime Value ($), Net Adds, EBITDA Margin, Net Operating Profit, Net Assets, WACC, Management Motivation, FCF (Free Cash Flow), Employer Rating.
Learning Objectives
Management of digital marketing for subscription-based products
Marketing dynamics of digital, subscriber-based products and their KPIs including

ARPU
CPGA
Churn rate
Customer Lifetime Value

Running & measuring CPC advertising campaigns

Setting Advertising Budget and Max CPC
Integrated Search Engine CPC Simulator resolves the competitive bids based on Max CPC, Ad Quality and Website Quality
Results include Avg. Pos, Impressions, CTR, Clicks, Conversions, Cost per Conversion etc.

Impact of social media marketing on visibility & conversions
Impact of SEO on search visibility & conversions
New product launch
Pricing digital products competitively
Growing market share and increasing profitability
Understanding the importance of recruiting talent with digital skills
Maximizing the bottom line
Discovering how the digital advertising funnel works and specific CPC Advertising ratios including

Impressions, Click Through Rate, Clicks, Cost Per Click, Conversions, Conversion Rate, Cost Per Conversion, Max CPC, Avg. Position