Project Management Simulation
The Project Management Simulation is an action learning activity, typically engaged with as a team exercise. The purpose of the simulation is to develop knowledge and skills that ultimately improve real-life performance and decision making in project management. Participants are confronted with scenarios and challenges common to real-world projects. A simulation focused on project management training allows learners to witness the consequences of their decisions almost immediately. Because they can track the evolution of project delivery and cost KPIs as well as HR related performance indicators, the learning is immediate and applicable. This simulation provides an opportunity for learners to manage projects in a risk-free environment.
Our off-the-shelf Project Management Simulation provides an engaging learning experience and is ready to deploy with minimal effort. All IndustryMasters business simulations are available as competitive multi-player real-time events and as self-guided, single-player versions.
The Project Management Simulation can be tailored quickly to adjust the story-line, KPIs, critical decisions and relevant lessons to your project management training requirements. When only a custom solution will do, we have the experience and technology to build completely unique project management simulations. We work with you to ensure we have exactly the decisions and outcomes your learners need to understand.
What is Project Management?
Project management is the art of leading a project team to successfully implement a project at a given project budget and within a specified timeline. The main challenge of project management is to effectively and efficiently assign and manage resources in order to achieve the project's objectives.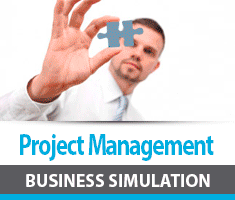 IT Project Management
In the Project Management Simulation the ultimate objective is to manage a project within a given timeline and budget. Participants must assign and manage human resources to complete different project tasks and milestones.
Themes: Project Management including Scope, Resource Planning, Dependencies and more; Operations Management; HR Management; Recruiting; and Capacity Planning.
KPIs: Timeliness, Cost vs Budget, System Availability, IM Employee Productivity.
Learning Objectives
Project Management

Working with Project GANTT charts
Planning of Work Hours for each task
Manage Employee Training
Manage Employee Compensation
Manage New Hires
Manage External Contractors

Cost Management
Timeline Management
Talent Management and Retention