You're probably tired of hearing how change is the only constant. Even when it happens to be true. Yet, what you may hear less often is that change is also typically incremental. We live with its steady grind day by day until suddenly we realise the world is not what it was.
And we have somehow come to accommodate it. Even though change is something people, as a general rule, do not like. It makes us uncomfortable. Nervous. It unsettles us. Which is why typically rational, sensible and committed employees view change management in the same way they view a storm-cloud on a horizon. They know it's coming, and they know there's little they can do about it. Except find the safest place to shelter. And hope it blows over quickly.

At IndustryMasters we understand the challenge facing leading companies wrestling with both a dynamic, ever-changing and hyper-competitive world and a seemingly resident organizational inertia. When organic growth is replaced by acquisition. Innovation with bureaucracy. In this environment the simplest of solutions is also the hardest to achieve.
How do you make people see the future? How do you show them how much better it can be?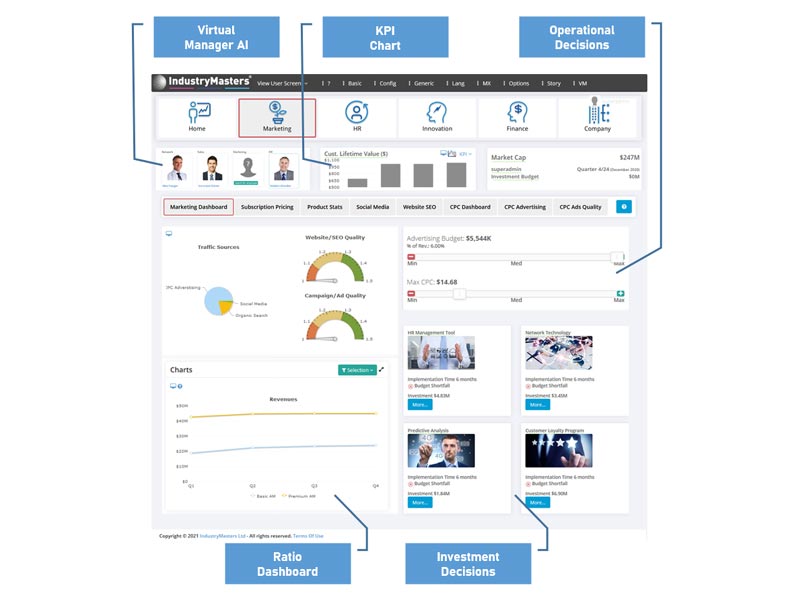 Simulation Screenshot: Change Management
In simulation we have an answer. Thorough immersive tasks in simulated worlds we create a native habitat your people will recognize instinctively. And in this world you can challenge them to create their own future. Build cross-border teams and solve real issues of real magnitude. In our work we see it all the time. People so engrossed they have forgotten that the world isn't real. That what they have created has only been imagined.
But now that it has, there is somehow less to fear. Fewer nerves. A sense of purpose. And a growing excitement to make it there.