Airline Management Simulation
In the ever-changing world of airline management, initiatives struggle if employees don't readily adapt to new directions. Decision making in any industry often becomes habit and habits are difficult to change. Our Airline Management Simulation offers hands-on practice within an immersive, no-risk environment. Participants learn how to manage change and lead their teams through the change process. As will all simulations, the ability to witness immediate outcomes to decisions makes the learning memorable, applicable and fun.
Our off-the-shelf Airline Management Simulation offers an engaging training experience and can be ready to deploy with minimal effort. This particular simulation emphasizes the Triple Bottom Line (People, Planet, Profit) as well as Corporate Social Responsibility. As well every IndustryMasters business simulation, it is available for deployment as a competitive multi-player real-time event or as a self-guided, single-player version.
The Airline Management Simulation can be tailored quickly to adjust the storyline, KPIs, critical decisions and relevant lessons to your change management training requirements. When only a custom solution will do, we have the experience and technology to build completely unique simulations focused on change management. We will work with you to ensure we have exactly the decisions and outcomes your learners need to understand.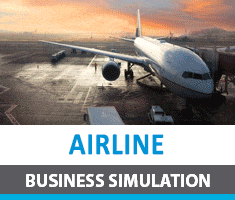 Triple Bottom Line
The primary objective of the Airline Management Simulation is to grow the business while managing the transition from a traditional airline to a sustainable one. The simulation includes decisions that drive indicators for People, Planet & Profit to reach a balanced Triple Bottom Line performance.
Participants determine market opportunities, operations costs and an optimal strategy for maximizing efficiency, market share, and financial performance.
Themes: Strategy, New Product Introduction, Operations management, Service Industry, Competitive Advantages, HR Management, Recruiting, HR Talent Retention, Capacity Planning, Finance, Issue/Buyback Shares, CO2 Emissions, Sustainability, Triple Bottom Line (PPP).
KPIs: Fuel Cost Ratio, Revenue, Passenger Satisfaction, Crew Engagement, Return on Assets (ROA), Average Ticket Price, Load Factor, EBITDA Margin, Revenue per available Seat km (RASK), Passengers, Cost per available Seat km (CASK), Available Seat km (ASK), Revenue Passenger km (RPK), Free Cash Flow (FCF), Return on Sales (ROS), CO2 Emissions (ton), Avg Fuel Cost (Liter), CO2 gram/PAX KM
Learning Objectives
Change Management across all departments: R&D, Production, Marketing, HR and Finance
Product Management

Adjusting Ticket Prices
Adjusting Marketing Spend

Management of the Company's Funding

Issuing Shares to Increase Equity
Taking Loans to Increase Funds

Fuel Procurement
Investments for CO2 emissions reduction

Winglets
Flexible Navigation System
Continuous Climb & Descent

Launching New Routes

Long Haul
Medium Haul
Short Haul

Growing Market Share and Improving the Triple Bottom Line
Understanding the Importance of Talent Management and Retention
Maximizing Market Capitalization