Banking & Treasury Management Simulation
Our off-the-shelf Banking & Treasury Management Simulation provides an engaging learning experience and is ready to deploy with minimal effort. All IndustryMasters business simulations are available as competitive multi-player real-time events and as self-guided, single-player versions.
What is Treasury Management?
Treasury management is the management of a bank's financial assets, with the objective to manage the bank's liquidity and mitigate its financial and reputational risk. Treasury Management includes a bank's customer credit and deposit operations as well as investment and funding activities.
The Banking & Treasury Management Simulation can be tailored quickly to adjust the storyline, KPIs, critical decisions and relevant lessons. When only a custom solution will do, we have the experience and technology to build completely unique banking simulations. We work with you to ensure we have exactly the decisions and outcomes your learners need to understand.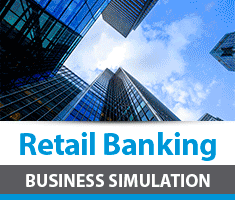 Treasury Management 101
From the Banking Management Simulation, participants learn the complexities of today's banking business. Choosing between strong growth or cautious expansion strategy at lower risk, finding a balance between deposit business and credit products, and developing high quality banking services for customers are just some of the challenges faced.
Themes: Treasury with Basel III, Strategy, Market Segmentation, Service Industry, Portfolio Management, Competitive Advantages, HR Management, Recruiting, HR Talent Retention, Customer retention, Customer acquisition, Finance, Issue/Buyback Shares, Mergers and Acquisitions.
KPIs: Deposit Ratio, Service Income Ratio, Core Capital Quota, Net Interest Income, Revenues from Services, Revenues from Treasury, Net Income, Return on Equity (ROE), Employee Engagement.
Learning Objectives
Management of customer credit and deposit products

Adjusting Interest Rates
Adjusting Marketing Spend

Management of the bank's funding

Issuing shares to increase Tier 1 capital
Remaining in compliance with Basel III, IV regulations

Investments for Digital Transformation of the Bank

Digitize Credit Process
Self-Service Options
Workflow Tools
Innovation Hub

Launching credit, deposit & service products
Growing market share and increasing profitability
Understanding the importance of recruiting talent with digital skills
Maximizing the bank's Return on Equity (ROE)