Our solutions empower people to learn.
With the most advanced business simulation technology available today,
we create and deliver exceptional learning experiences
Our wide range of solutions – from mobile and self-paced learning, to virtual events, business wargaming, and traditional classroom deliveries are designed and delivered with your organisation and its context in mind.
We get to know you, your learners and your unique situation. Then, we work closely with you and your stakeholders to craft a solution that best develops your people.
Human centred design principles are at our heart. We develop intuitive, highly impactful experiences which combine deep narrative, tried and tested algorithms and beautiful interfaces which truly immerse learners in a context-rich environment
We can lightly tailor or fully customize a simulation to meet your needs.
Our simulations engage learners with realistic business challenges in a risk-free environment. Such robust experiences encourage cross-functional collaboration and teamwork, building confidence, critical business acumen and leadership skills.
Our Tested and Proven Platform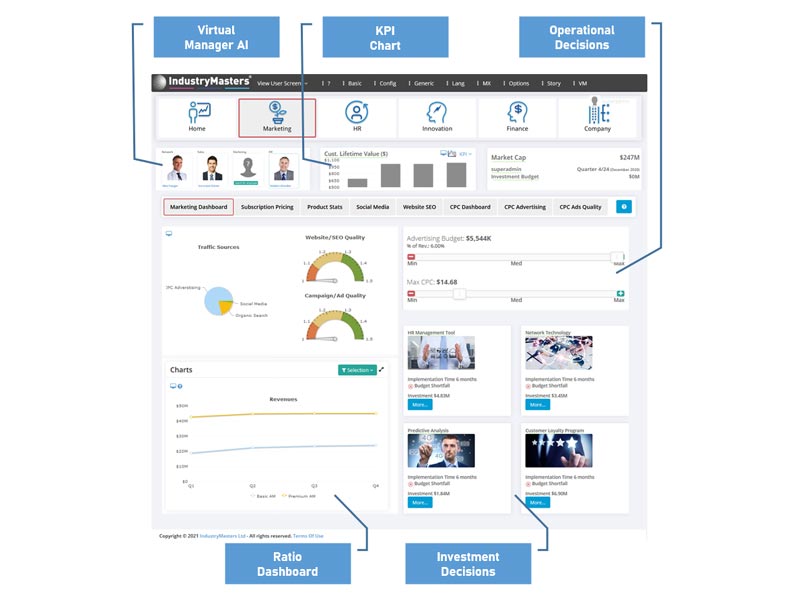 We've eliminated concern about developing a simulation from the ground up. Instead, we're building upon our decade-plus experience and robust platform.
Our client resources – time, money, energy – will be spent on the things that matter most:
Designing the learning journey and learner experience
Enhancing the narrative and storyline
Adding realistic curveballs
Incorporating assessment opportunities
MEETING YOUR NEEDS We collaborate with you to
identify and incorporate your challenges and objectives.
SOLID PLATFORM World-leading proprietary
technology offers major cost
and efficiency benefits.
AWARD WINNING Our simulations have been
recognized by Brandon Hall
and our customers.
SCALABLE
Our solutions expertly meet the needs of a small group to many thousands of learners.
FLEXIBLE
Deliver to traditional classrooms, virtual participants and to combinations of each.
GLOBALLY BASED With headquarters in Denver,
Cologne and Malta.