How Do You Develop Business Acumen Skill? Business Simulations
The number one skill business leaders need to make sound decisions is business acumen. More than just financial literacy, but the application of that to their daily decision making.
Business simulations are revolutionizing business acumen training. Companies from a wide range of industries are implementing these interactive and engaging digital learning solutions. Simulations help employees develop business acumen and leadership skills while increasing industry-specific knowledge through game-like simulations of real-life workplace scenarios. Participants work in teams to solve problems with their teammates. Simulations are a product of advanced technology, they are loved by the Millennial workforce. Millennials aren't the only ones that benefit from this training method.
How Do You Develop Business Acumen Skills?
Due to the highly engaging and interactive nature of business simulations, they can effectively teach any and every employee how to develop business acumen.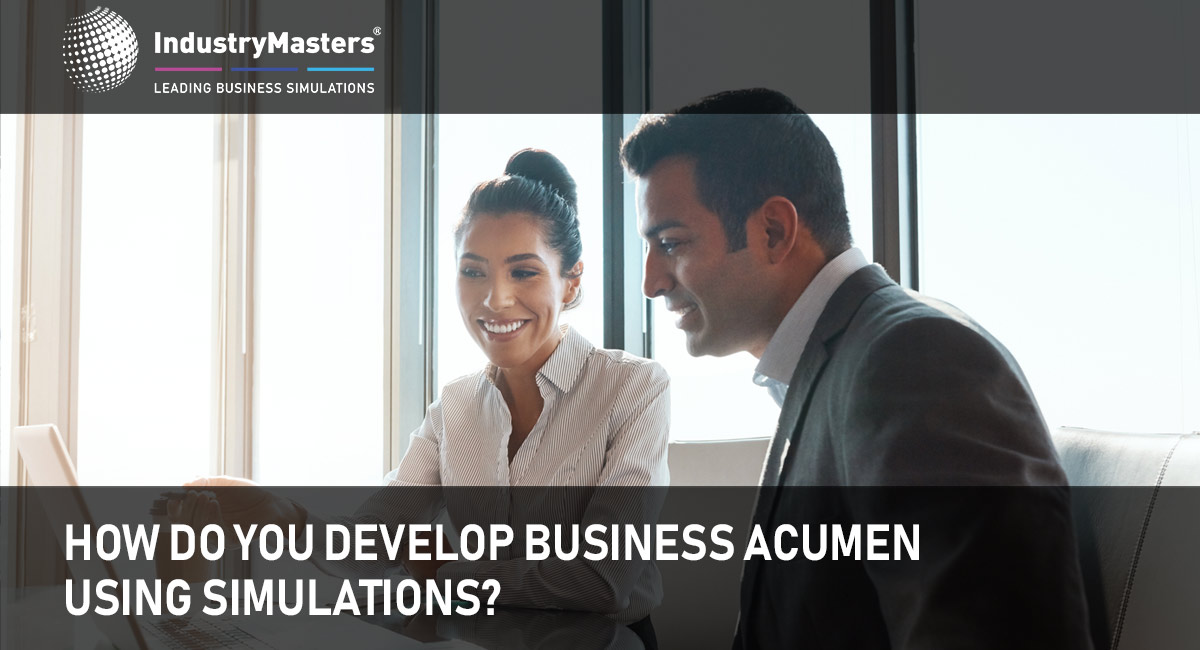 Here are four reasons why business simulations are an effective training method for learners of all ages:
1. Implement Hands-on Learning
There is no better way to learn than by doing. Since long before the invention of an alphabet, hands-on learning has been how humans have transferred skills and knowledge. Hands-on learning develops critical thinking and problem-solving skills. Regardless of how you learn best, hands-on learning has proven to be useful for everyone to increase retention. Traditional training can be dry and boring because there is little interaction. Hands-on learning, though, is engaging, which helps employees to develop business acumen and recall their new knowledge when back on the job.
2. Relatable for All Learners
Interactive simulations incorporate visuals, verbal clues, aural messages, logical challenges, and physical movement. Unlike other training methods that may cater to a certain type of learner – typically visual or auditory – business simulations cater to all types of learners. This is the main reason why business simulations bridge generation gaps. Regardless of age, everyone has a specific learning style. When we focus on learning style rather than age, it's easier to find an effective training method – such as business simulations – that is relatable for all learners.
3. Based on Practical Application
Often, employers attempt to train employees by teaching theory. The majority of learners, though, learn best by doing. Business simulations address this problem by being based in practical application. Business simulations mimic real-life scenarios and require participants to solve problems as they arise. Every employee needs strong problem-solving and critical thinking skills. The ability to assess a situation and present a plausible solution is easier to do when employees are learning by practicing these skills. They easily develop business acumen skills while being immersed in the simulation experience.
4. Bridge Generation Gaps
How many training methods have the ability to bridge generation gaps? Not many! This is one of the many unique features of business simulations. When looking for a training method that will be effective for a wide range of learners, employers need something that is relatable for all learners. Due to the highly engaging and interactive nature of business simulations, they can effectively teach any and every employee how to develop business acumen. Digital learning solutions, including business simulations, are not only effective for training all ages, but are easy to use as well.